Now that we are getting closer to Christmas, kids are starting to talk bout their Christmas lists. After many hours of surfing the net, I have noticed a lot of kids talking about the Pokemon Pikachu.
Back in October the intro to this picture was," O.K. This is where we appear to be heading right now, you say Furby?" Well we all know that this has become with out a question the #1 Pick of the season. Of course Furby isn't for everyone. And even if you did want one, finding one now after Thanksgiving is almost impossible for suggested retail. There are Frubies to be found, but be ready to drop some major bucks!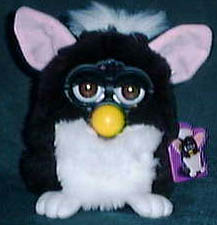 Now lets talk about some other toys, yes there are others to pick from.

Barbie - Well we all know who Barbie is! Many of use played with her when we wrote Santa our Christmas list. However in the old days she was just a nifty doll, now she is an collector's item. Barbie can be a good choice for most any female. Older girls and grown-up may enjoy one of the collector Barbies like the Holiday, Nascar, or even the Harley Barbies. For younger girls there is a wide choice of inexpensive Barbies to play with. The simple ones price range is from $4.00 to $15, while Collector series can range up in the hundreds. Their is one special one I found this year, no one is talking much about it, but may be the perfect toy for some, "Becky - Barbie's Friend". This new doll just happens to use a wheel chair. I have also heard rumor that there is a "Friend" that has Downs, however I have not seen this doll. I was able to buy a Becky at our local K-mart. (back to top of page)

Rug-Rats - With the movie having just come out, appear to be an hot item with fans. You can buy most anything with them on it. I purchased the 12" dolls. Each one does something different. Much like the other dolls/stuffed animals they only do one thing, but do it well. The cost for the 12" was $19.95 and came out of the box ready to play. (back to top of page)

Sing Along Blue - This pup is cute, light weight, and easy to handle. If you squeeze one paw she barks, the other paw makes her play the Blue Song. For those grandparents that no longer watch kid shows, she is from a popular show on Nickelodeon, "Blue's Clues". She is recommended for ages 1 1/2 and up, comes ready to play (don't have to buy batteries). (back to top of page)



Bounce Around Tigger - This guy is cute, large enough to hug, yet small enough to handle. If you grasp his midsection and pull down, he will:


Say ''I'm gonna bounce.''
Then bounce while making "boing" sounds and laughing, "Hoo, Hoo, Hoo"
After bouncing he will say, "Bouncing, is what Tiggers do best"
He is recommended for ages 18 months and up, I had fun with the ones around here. After a while could become boring unless you are a Tigger fan. This guy comes with batteries included. Suggest you test the one you are planning to purchase, I found 3 so far on store shelves that no longer worked. (back to top of page)



Furby is manufactured by Tiger Electronics. He is only about 6 inches tall, and furry. Seasoned elves may refer to him as a new generation of Gizmo, you do remember Gremlins don't you? With a little bit Cabbage Patch mixed in. His physical appearance is that of a small Gizmo, however like the Cabbage Patch Kids, No Two are alike. Each has its own look, and individual name. Mine's name is Cocoa.

Furby is for older kids!
This creature is: high tech, has small parts, not soft like the Elmo and Ernie of the last two years, and I would assume breakable. His little body is full of sensors, including touch, motion, light, and sound.

Elves will enjoy playing with him too. Starts off as young playful speaking his own language, with time he English improves. He is capable of learning what his owner likes, and playing simple games. If you have more than one, and have them facing each other, they will hold their own conversion.

The other night some friends came over, 4 adults ranging from age 31 to 57 were sitting on the floor playing with these guys and having fun. By day all four people are professionals, two with high stress management jobs, however this critter brought out the kid in all of us.

Over all I would rate him a 9.

The little headaches:
He requires 4 AA batteries (not included)
Getting him out of his box, is a little nerve racking.
Instructions are in very small print, and written in a light colored ink.
No OFF switch, however he does have a sleep mode. (back to top of page)

Finding a Furby
(I also now have a Furby page up and running, it includes links to Fan sites, Message Boards, and Web sites selling. Trust me you will save money if you can locate one in the listings below.)


December UPDATE: It would take a miracle to find a Furby in a store. Some stores are starting to get in their late shipments, however the quanity is very low. My only suggestion is to keep an eye out for them. They can still be bought online, but for a much higher cost. Check the Furby page for a complete listing of Furby sites.

UPDATE 11/30/98 Most of the following stores that also offer online sites, are SOLD OUT! Prices now average over $100.00.

Rumor has it the following business will be stocking
All Wound Up
Ames
Army/Airforce PX
Benny's
Big Entertainment
BJ's
Bradlees
Caldor
Checkmate
Costco
CVS Drugs
Duckwall - ALCO
Electronics Boutique
Family Toy Warehouse
Fred Meyer
FAO Schwarz
Fingerhut
Gibsons
Grandpas
Hills
Johnny's Toys
KayBee Toys
K Mart
Kohls
K's Merchandise
Longs Drugs
Meijers
Musicland
Natural Wonders
Noodle Kidoodle
Pamida
JC Pennys
Boscov's
PM Place
Puzzle Zoo
Roses
Sams Club
Sears
Service Merchandise
Shopko
Spags
Target
Toys R Us
Walgreens
Walmart
Wards
Zany Brainy
12/5/98 Well JC Penny was to start selling as of December 6th. However they changed the game plan, and started on the 4th and also opened up on the web site. They are now sold out. I even missed out!
I would suggest keeping a close eye on local stores just incase they get a late shipment, however the odds are very low of finding one now.

11/30/98 Most online sites are out of out! However J C Penny's will be taking orders later this week. Not one line buy the old fashion way, phone. For more information on who how and where check my Furby page.
11/25/98 It would appear that many of the department stores are receiving Furbies this week. However rather than setting them out, they are holding them for Friday morning. Rummer has it many stores, will be using them for early bird shoppers. From what I'm hearing your best bets will be Wards, Wal-mart, and KayBee Toys. Some stores may try something new this year, passing out numbers to people who enter the store, any one with a number can buy a Furby. If this is done, it should help prevent the human stampede.
Also many people are buying Furbys and selling on line. However, as always there are those few people who may not have your best intentions in mind. Sites that are selling on line, are listed on the regular Furby page.
I will try to do a late night up date Thursday, with any last minutes news. With this having been said, I wish everyone a safe and Happy Thanksgiving.
11/24/98 Wal-mart online is sold out
11/18/98 JC Penny Will start taking orders from people who own a J C Penny Credit Card at mid-night 12/6/98. You will need the Lot# number that comes in the December bill. There will be a limit of 3. By the way they only have 24,000. I know that sounds like a lot, but isn't. Good Luck ($29.99)
11/17/98 Wal-mart - the furby will appear and disappear from the site. This may be how they keep from over selling. All I can suggest is keep trying.
11/16/95 Wal-mart is selling on line $29.97 plus $3 s/h. Note will not appear on search engine you must Go to: The Home Page - Toys & Hobby - Toy Shop - Dolls & Plush
Sorry was out of state for a couple of days
11/4/98 Toys R US has sold out and Electronic Boutique has raised the price to $39.99
The online contests have started, check the regular Furby page for listings
11/4/98 Toys R US is selling on line, $29.99
11/3/98 the rageappears to be selling for $44.95
11/2/98 FingerHut is back ordering for $29.99
11/1/98 Electronics Boutique is now backordering!
Some stores appear to be receiving their Furbys now. Keep in contact with your local stores. Call them and ask if they know which day their delivery trucks will arrive. Then be there.
10/31/98 Electronics Boutique Online has raised the price to $34.99 USD
Have been told that Finger Hut is Sold Out for now!
10/30/98 Electronics Boutique Online has them in stock $27.99 USD
Have been told that FingerHut has raised price to 39.99
10/29/98 FingerHut is now is back ordering
10/28/98 Rummer is that FAO Schwarz is no longer taking orders for Christmas delivery
As of 10/23/98 FingerHut is taking orders! Item number 16AT1, phone (320) 259-2500, price 29.95 USD
The Washington DC KayBee Toys at Tyson's Corner Mall received 600 Furbys which sold out in 4 hours with a limit of 1 per customer. (I called them myself)


How the Toy Market Works (back to top of page)
Have you ever had the feeling "They're out to get us"? Well may be not really "to get us" but to get our hard earned dollars.
Toy companies are in the business to make money, its that simple. However this is not an easy task, to design something that kids will like is a very competitive, and fickle. No matter how much money is spent in advertisement, if kids don't like it, it won't sell. Where they get us is if the toy has appeal for what ever reason, the race is on.
Some times a toy will appear on a TV show like the Tickle Me Elmo did on the Rosie O'Donnell Show last year, or the Morning shows and talk shows will invite guests to come and show different toys. This will many times give it a boost to a particular toy or two.
New packaging of toys. Have you noticed that many are in open front boxes, and armed with batteries? This way you can play with it in the store before buying it. Of course the down side to this is unless you pick out one from the top back shelf, you are buying a used toy.
Names of toys, now many names tell you what the toy does. Like the, "Bounce Around Tigger", just from the name you know which character he is and that he bounces.
Toy stores will give a push toward an item. Like FAO Schwarz did to the Furby this year. They labeled it "hot toy" before it was even on the shelves around the country
Scarcity of toys is another headache. Remember why toy companies are in business, and how they do business. Just because the street price of a Furby is $100, does not mean that Tiger is getting a dime more for a Furby. They make their money from the manfacturing / wholesale side.
Did you know that about 50% of toy sales happen in December? This gives the manufactures only one twelfth of the year to make fifty percent of their income. So why would they limit production? They don't.
Hers is a very simple overview of how it works:
February - Buyers place an order after the toy fair.
July - Stores and distribution centers start receiving.
October - The demand cycle begins. Lots of people guess, at what's going to be HOT but no one knows for sure. Between advertising, kid preference, the nation's economy, and at least another half dozen factors, there may be only one toy that really takes off, or there may be a hand full, with equal demand.
November - Now there isn't enough time to order, manufacture, and ship to fill demand. You now have a shortage, if not real, will be self created by stores and people hoarding, in hopes of selling for a higher price.

The "Hot Toy" Game Plan (back to top of page)
In most years, the hot toy of the year will appear in either late summer or very early fall. The price will be at suggested retail, with plenty of stock. Some where around October, the trend will start. Between commercials, promotions, and news casts about trade shows, people will lock-in to one or two toys for that year. You will notice I used the word "people" not "kids". Toy manufacturers are cashing in on elves and parents alike, if you can convince them the toy will be hot, they will horde.
Hoarding hot toys is much like playing the stock market. You could win big time, or end up with a bag of toys worth less than what you paid. Here is my game plan:
Mission: Have enough of the targeted item(s) for the grandkids, and a couple of extra kids. (I assist one or two families in need, each year). Have enough other toys and needed items to fill under the tree, so that it will be a Christmas to remember.
1. Determine hot toys of the year.
2. Locate toys, and buy.
3. Sit on them, until the holidays.
By the way, they will make a great raffle item for charities.

---
Elf Robin