Notice to All Easter Bunny Helpers!
You have been slacking on the job.
It started almost fifty years ago and has only gotten worse, many of you have become lazy. There was a time when an Easter basket was full of delicious goodies, now the average basket is 75% paper, covered with a hand full of grass, some miniature packets of candy, and if the kid is real lucky a chocolate "Flavored" hollow rabbit! As for toys, well the local fast food restaurant gives away better quality.
These so called Easter Baskets, would serve other holidays more appropriately....
April Fools Basket - You only thought you were getting real chocolate
Halloween Basket - Trick or Treat, and you got the "Trick"
Now let's cover the basics to a "Real Easter Basket"
Basket
First thing is the basket, times have changed, so plastic is acceptable, however the woven basket is still the preferred. It has become the American standard "Bigger is better" but this isn't the case with Easter baskets, it's quality of contents. So don't buy any bigger than you can afford to fill.
Most discount stores, carry baskets, however there are other options. If you have a little "spare time" the local craft store sells plain ones that can be decorated. If time and funds are short, flea markets, second hand stores, and even garage sales are great places to find some real cool baskets. If you buy a second hand basket, and are a little nervous about germs, spay with a disinfectant spray (suggest one of the better smelling ones). By the way don't think of a "second hand basket" as being "used" it's just "vintage".... The older the better.
Now about grass, excuse me folks this stuff is CHEAP! There is no reason to use crumpled news paper, in the bottom on the basket, and cover it with a hand full of grass. Spend the extra fifty cents!
Candy
Now that you have your basket, let's talk about filling it. If you are going to buy candy, read the labels. What appears to be the same often isn't!! There is a big difference in "chocolate flavored" and "chocolate". It's like comparing a McDonalds Kid's hamburger to a T-bone steak. Both can be labeled as containing "beef" but which would you prefer?
Then there is the "hollow bunny", remember how disappointed you were when you saw that BIG BUNNY in your basket, and when you bit off his ear, only to find that it was nothing more than a couple of bites of chocolate, and lots of air.
Even a smaller bunny that is solid, will bring more enjoyment. There is nothing like having to nibble off the arms and legs because it's too thick to bite.
Now since many of you were not trained properly here are some easy recipes for goodies. All are cheap, easy, and will make for good Easter memories.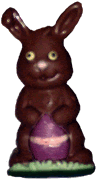 Home made Easter bunnies
You can shop at a local hobby store or online (I buy online, at "Get Suckered") for your supplies. A mold, a bag of chocolate and a little bag of white chocolate if you want to be fancy.
(A quick note about Get Suckered, I'm not an affiliate, they don't even offer a web affiliate program, however what they do offer is tons of molds, flavors, and accessories for a good price, not to mention the fact that advice is FREE. They also have a message group, that includes many candy makers from the new hobbyist to the professional, always friendly and full of neat ideas, tips, and tricks for making homemade sweets.)
For a simple Milk chocolate bunny, snap mold together, melt chocolate and pour into mold. Set chocolate set, remove from mold.
Now isn't that easy?
For a fancy colorful chocolate rabbit, use either colored chocolate meltables, or white chocolate with food coloring (do not use liquid food coloring with chocolate, it must be dry or gel). Melt the colored chocolate, use a cheap little paint brush and paint the chocolate on to the mold. Allow to set-up, the snap mold together and continue as you would the simple bunny. (need more details?)
Chocolate Covered Marshmallow bunnies
Ok here you get to cheat a little, buy some marshmallow bunnies, and dip in the left over chocolate from the big bunny you made. Place on waxed paper, and decorate.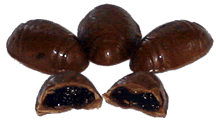 Little Filled Chocolate eggs
Looks hard but easy! Buy a mold, melt your chocolate, and paint it to the mold. Fill with something like melted caramel, strawberry preserves.... Finish filling mold with chocolate and let harden.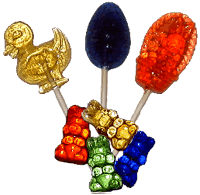 Suckers and hard candy
This is where you can really show off your skills, the average modern Easter Bunny assistant, was never taught this, but it's easy, cheap, and darn right fun. Total time is about 30 minutes, however hands on time is less than 5 minutes.

In a sauce pan, mix 1 cup sugar, 1/2 cup water, 1/3 cup corn syrup, over medium high heat bring to a boil, stirring until sugar is dissolved. Cook until it reaches 300 F, remove from heat, add food coloring, and flavor. Pour into mold, that has been spayed with "Pam". Allow to cool and pop out of mold. (need more details?)

Now that you have made you chocolates and hard candy, you can finish off the basket with some little store bought extras.

Jelly beans are a standard item, while the traditional beans are acceptable, Jelly Belly's are better.

Non eatables - Little Toys are nice, and will last longer than the candy. For older kids (pre-teens and teens) little pieces of jewelry ( a rabbit pin), items for their bed room (little picture frames) school supplies (fancy pens, pencils and erasers), or green stuff (cash) are acceptable. If cash is given, do it with "class" fold bills into a cute shape, or at least tuck into little plastic eggs.