How to make homemade Easter Candy
Chocolate - Hard Candy- General Tips
Chocolate Bunnies, filled eggs, and suckers
Items needed:
Glass bowl (if using microwave)
Double boiler (if using stove top)
Squirt bottle (not necessary, but very helpful)
Little paint brush (if doing fancy stuff)
Mold(s) very cheap can be bought at craft stores or online.
Sucker sticks (if making suckers)
Little plastic bags and ribbon (keep candy clean, and looking good)
Ingredients:
Chocolate Wafers (normally come in one pound bags), made especially for melting and molding. They come in a wide assortment of colors and flavors, as well as qualities. The standard milk chocolate is expensive, and will do for the average Easter candy. As you gain experience you can buy better quality.

Non liquid food coloring and vanilla flavored wafers, if you are planing to do fancier looking chocolates, but don't want to buy a whole bag of colored wafers. (never use liquid coloring)

Candy decorations if desired. Candy eyes, eatable glitter, ...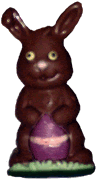 How To:

Follow directions on wafer bag, for melting.
Pour into mold
Place mold in refrigerator for 30 to 45 minutes
Remove from mold.
Trim off any excess chocolate

For fancy multicolored bunnies:
Melt colored wafers, or vanilla wafers.
If using vanilla, stir in coloring
Using a little paint brush, paint chocolate on to mold. (Warning, do not wash brush with water, between colors! Wipe off excess color with dry paper towel, or use different brush)
Allow to set,
Fill mold with chocolate, and continue as you would for a plain bunny.
| | | |
| --- | --- | --- |
| | * Tip: Some molds may leak a little, place on dish or cookie sheet | |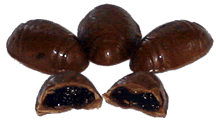 Filled chocolates
These are done much the same way as bunnies, however the mold is "painted" with chocolate.
After chocolate has set, fill. (note: there are some excellent ready made fillings, however if you are on a budget, melted caramel or fruit preserves can be used.)
Either spoon, or use your squirt bottle to finish filling the mold with chocolate.
Allow to set.
Remove from mold, trim off any excess chocolate.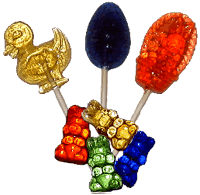 Hard Candy
Items needed:
Sauce pan
Candy thermometer (optional, but very handy)
Hard candy mold(s) - NOTE the mold must be made for high temperatures!! Molds for chocolate candies will melt. Make sure the label says "for hard candy".
Sucker sticks (if making suckers)
Ingredients:
1 cup sugar
1/2 cup water
1/3 cup corn syrup
food coloring (most any kind)
flavoring
Pam (or any vegetable spray)
Spray mold(s) with a light coating of Pam
Place sticks in place (if making suckers)
Place sugar, water, and corn syrup in sauce pan
Cook over medium high heat, stir until sugar is dissolved.
Remove when temperature has reached (crack stage) 300 F
Very quickly stir in color and flavor.
Pour into molds
Gently pop out of molds when cooled.
The above recipe, can make 36 of the little rabbits, or 12 suckers. Your actual amounts will depend of the size of your molds. These two molds came from Get Suckered, their cost is less than $2.00 each. The sucker mold makes 6 at a time, and the rabbit makes 12.
General tips and tricks for success and saving $$
If you are going to be doing both chocolate and hard candy, buy hard candy molds. These can be used for both types, unlike chocolate molds that can only be used for chocolate.
As with molds, if you buy oil based flavors they can be used for both types of candies.
Chocolate will become a mess, if it comes in contact with any liquid other than oil! All utensils must be dry before using.
Chocolate can be flavored, there are many different oil based flavoring available.
While alcohol based flavoring can be used for hard candy, oil based to better.